Dura Products Manufactures High-Quality Transfer Pumps & Meters
Dura Products Inc was founded by owners that have been in the farming industry in many capacities, from family farming to agricultural chemical sales to sales and service of agricultural pumps and meters. With the introduction of the Dura-Meter in 2011, Dura Products Inc incorporated durability, versatility and innovation into digital agricultural chemical meters.
The flagship Dura brand goes beyond excellent design to incorporate smart thinking that anticipates people's needs, providing thoughtful innovations and inspirational designs that delight. From a moisture-sealed construction and a robust poly-housing that allows for multiple mounting capabilities to a large LCD display and a Calibration Quick List, Dura-Meter provides a better way to experience agricultural meters.
---
Dura Pumps
The DURA-PUMP™ DP-4000E is self-priming, can be run dry without damage, has an internal bypass, and is easily field repairable. The DURA-PUmP™ suction port is configured with a 2″ male NPT X 1″ Female NPT for easy plumbing capabilities. The discharge port is a 1″ Female NPT. The DURA-PUmP™ features a 2-year warranty.
---
Dura-Meter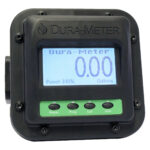 The Dura-Meter™ New Generation Fluid Meter, with its three-fold durability, is designed for durability. (1) It has a moisture-sealed construction, so it is impervious to moisture; (2) The durable, robust poly-housing can be securely mounted to avoid damage; and (3) With its durable design, Dura-Meter™ is strengthened against vibration and shock, with LCD display that is proven in harsh environments.
Dura-Meter™ is designed for accuracy. Choose from the Dura-Meter™ Calibration Quick List™ of commonly used products and selected temperatures to automatically calibrate your meter, OR dispense fluids into a calibrated container and adjust the meter to the amount pumped for Easy Manual Calibration. Dura-Meter™ gets it right… the FIRST time!!!
---
Contact
| | |
| --- | --- |
| Ohio Valley Ag for purchasing and shipment options. | |