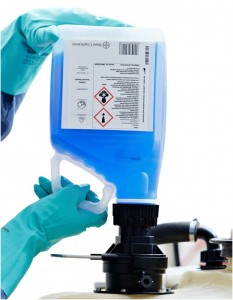 The easyFlow is the first closed, contamination-avoiding and self-cleaning transfer system for liquid plant protection products from sealed or non-sealed small PPP containers enabling the user to do partial or complete dosing. The easyFlow system is designed to fulfill all standards of environmental protection and operational safety today and in the future. Agriculture requires precision.

---
In comparison to previous systems Greenleaf easyFlow combines following advantages in one compact system:
Non-spill connection with highest standards of user and environmental safety
Automatic re-locking system to prevent unintended opening of the PPP container
Continuously adjustable flow rates, enabling exact transfer of partial container volumes
Rinsing of accessible parts in contact with Plant Protection Products (PPP) after partial dosing (adapter stays connected to the PPP container)
Fast and complete rinsing of empty plant protection product containers
No more contamination and cleaning of measuring jugs required
Easy installation on all sprayer tanks and on most chemical inductors
Purchase EasyFlow Transfer System
---

One example: the exact and non-spilling ­dosage of liquid crop protection agents. The new easyFlow system protects the user and the environment from unintentional pollution.
---