Well known Fill-Rite Fuel Transfer Pumps meet your stationary and mobile fuel transfer pump needs with a variety of AC, DC, hand pumps, flow meters and accessories for most applications.
Tough, dependable pumps and meters for a demanding marketplace
Fill-Rite AC Fuel Transfer Pumps
Ideal for stationary installations. With FILL-RITE® products you get the accuracy, durability and reliability that you demand. You can find the right pump for your application for the right price from the complete family of FILL-RITE® AC Fuel Transfer Pumps
Fill-Rite DC Fuel Transfer Pumps
With the Fill-Rite DC Fuel Transfer Pumps, you can take reliability and pumping power wherever you need it. From portable use to tank and barrel mounting, DC pumps from Fill-Rite make transferring fluids safe and trouble-free where AC power is not available
Fill-Rite Hand Pumps
Tough. Reliable. Long-lasting. Fill-Rite Hand Pumps deliver fluids quickly and easily. Whether you're transferring gasoline, oil, diesel, even residual water from your tanks, select from a variety of Fill-Rite hand pumps. You'll appreciate the trouble-free performance of these rugged hand pumps.
Fill-Rite Flow Meters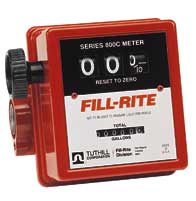 Cost-effective high-performance Liquid Flow Meters for industrial, commercial, and municipal service. Our flow meters are used in batching, blending, process control, and dispensing of liquid products in all liquid-handling industries.