Yetter Fertilizer Coulters Take You a Step Further
Adding a fertilizer knife or injection nozzle to your Yetter coulter transforms it into a tough and efficient fertilizer placement system with distinct advantages.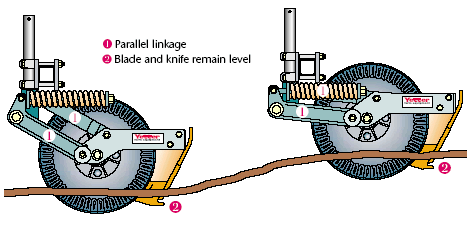 They're built to last. All components are heavy duty and include the long-lasting hub found on all Yetter coulters. Fertilizer knives are hardened to minimize wear, and the fertilizer tubing on a standard rear knife, side profile knife, or injection nozzle is made of corrosion-resistant stainless steel.
They're fully adjustable. You'll get maximum downpressure with minimum soil disturbance as the narrow-design coulter and adjustable spring work in tandem to place fertilizer next to the seedbed. The standard rear knife can be adjusted horizontally against the blade, preventing residue build-up.
Parallel linkage allows for True Placement™. The exclusive Yetter parallel linkage system offers the greatest stability in the industry. Two parallel arms fix the position of the fertilizer knife relative to the field surface. The linkage flexes when field contour changes, so the knife stays in the soil. The spring cushions the assembly to prevent damage from rocks and other obstructions.