TeeJet Matrix Guidance System (FREE SHIPPING ON SELECT MODELS)
Exlusive RealViewTM Guidance Over Video: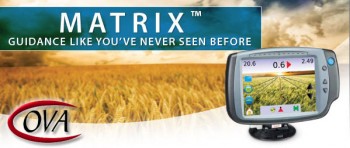 Now you can have all the guidance information you need, watch what's ahead and monitor various implement operations on a single console simultaneously for improved accuracy, easy validation of implement performance and reduced stress.
NextRow – Another TeeJet exclusive!
You'll never drive into the wrong row again when making headland turns with NextRow. Enter either swath width or number of rows and row spacing and Matrix Pro will guide you through the turns.
Complete User Control:
You choose what you want to see – guidance over video, video only or guidance only. Choose the number of cameras based on your requirements – up to 8 cameras can be used.
Upgrade at Your Own Pace:
Matrix Pro is auto steer and automatic boom section control (ABSC) ready. Enabling these features in the future is fast, easy and economical.
Purchase TeeJet Matrix GPS Systems