Power Where and When you Need it Most
Strength, simplicity and savings. The Apache has all three, thanks to its patented POWER-TO-THE-GROUND™ technology.
A full 90 percent of an Apache's horsepower is transferred to the ground, making it more efficient than hydrostat sprayers, which transfer no more than 70 percent of available horsepower to the ground.
The Apache's mechanical drive transmission has fewer parts than hydrostat machines, meaning an Apache is easier to maintain. Despite its simple construction, the Apache is rugged and dependable. It can handle even the toughest field conditions.
Apache owners appreciate the excellent fuel efficiency. The torque-converted mechanical drive achieves an average fuel consumption of better than four gallons per hour.
Power Conversion
A torque converter doubles the engine's ability to push the Apache through tough terrain, while a JCB limited slip differential allows for sharper turns and better traction.
Power Per Pound
Hydrostat machines require more horsepower because of added weight from wheel motors and pumps.
The Apache's lighter construction provides more Power-to-the-Ground™ than competing sprayers.
Most hydrostat machines only deliver about 70% of the engine's horsepower to the ground, while the Apache delivers 90%.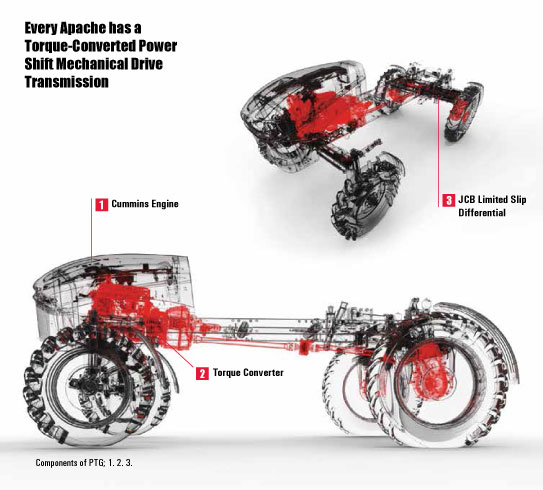 With our mechanical drive, PTG is as easy as 1,2,3.
Engine
Transmission & lock-up torque converter (on 1000 & 1200-gallon capacity machines)
JCB Limited Slip Differential
Apache Undercarriage Photo View Competitor Undercarriage