TeeJet Spray Matrix®
TeeJet precision farming products help you cover fields with maximum efficiency. You'll eliminate skips and overlaps, reduce stress, save time, and minimize fatigue. Our GPS-based technologies offer a wide range of functionality and capabilities to fit your exact requirements. And we simplify upgrading with additional components when your needs change.
Matrix® 430 GPS Guidance System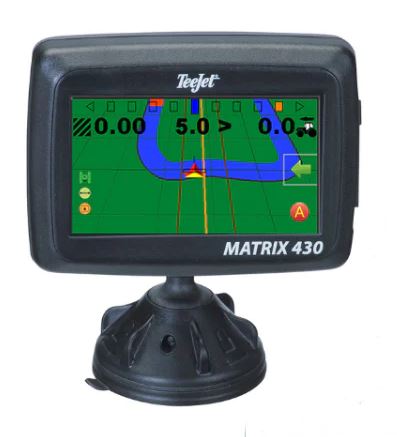 Matrix® 430 GPS Guidance System: Easy-to-Use, Low-Cost, Graphical Guidance System
GPS guidance is no longer too complicated or too costly. Easy operation and affordable pricing make Matrix 430 the best value in GPS guidance. An on-screen lightbar plus coverage mapping reduces skips and overlaps to maximize crop protection. Matrix 430 is a great upgrade from foam markers and lightbars for spraying and spreading.
---
Matrix® 908 Field Computer

Matrix® 908 Field Computer
The TeeJet Matrix® 908 is an all-new field computer with expandable options for your application needs. You can choose between navigation models for guidance use or an ISO model that includes application control and guidance. Multiple GNSS accuracy options are available and require no change in hardware to upgrade. The bright 8" display and fully updated menu structure offer intuitive operations and quick setup.
---