MOORESVILLE, Indiana (August 3, 2018) – Equipment Technologies (ET Works), parent company of the Apache Sprayer and Bruin Sprayer brands, celebrated its dealer team at its Annual Dealership Meeting, July 24-26. Individual salesperson and dealership awards were announced at the event which was held at company headquarters in Mooresville, Indiana.
The award categories and key recipients from the 2018 Annual Dealership Meeting included:
Top 5 Dealerships: Ohio Valley Ag, Simpson Farm Enterprises, Southern Application Management, High Plains Apache and Midwest Application
Dealership of the Year: Ohio Valley Ag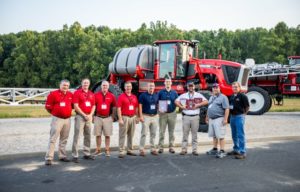 Top ACE (Apache Certified Expert): Jason Pavlu from Simpson Farm Enterprises
Top First Year ACE: Adam Switzer from Ohio Valley Ag
Comeback ACE of the Year: Clayton Schenk from Simpson Farm Enterprises
Dealers also participated in workshops and breakout sessions, and experienced a first-look presentation of the upcoming MY19 Apache and Bruin Sprayers.
"Our dealers are the ones out in the trenches telling the Equipment Technologies story every day, and it's important to recognize that, reward it and keep everyone motivated for the year ahead," said Matt Hays, Chief Executive Officer of ET Works. "The MY19 Apache Sprayers product line proves we've got a few surprises yet up our sleeve — just as the best in the industry should."