Raven's Cruizer is a simple guidance system designed to increase efficiency with applications ranging from tillage to harvest. Raven's Cruizer can be joined with SmarTrax and QuickTrax systems for assisted steering. Cruizer is easily transportable from machine to machine, and allows operators easy viewing of saved and exported maps.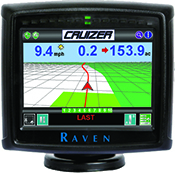 Cruizer II™ lets you add all the benefits of an easy-to-use precision guidance system and more to your operation, without pushing your budget off course. Because we removed two of the biggest obstacles—complexity and high cost. Cruizer II also makes it simple for you to grow with more power and capability when you're ready for auto-steering and automatic on-off planter and boom section controls.
Shop Raven Precision products with Agrimart.