Complete System Control for Greater Savings and Performance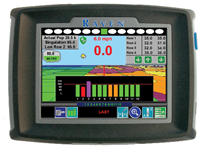 Envizio Pro II™ is Raven's complete multi-function field computer for growers, giving you more power to control, simplify and improve virtually every phase of your farming operation. From your first pass to your last, Envizio Pro II is the perfect interface for tying your different system functions together—and rewarding you with greater efficiency, performance and savings.
High Value Points
Seamless operation. Envizio Pro II is the driving force for all system functions. From integrated GPS technology, advanced data mapping and record keeping to dual product control, boom management, assisted steering and planter controls, Envizio Pro II works seamlessly to deliver greater efficiency and performance.
Doing more with less. With the latest in advanced computer software and RTK technology, Envizio Pro II brings a new level of accuracy and control to virtually every production area. That means greater savings in farm inputs with more efficiency and productivity from planting to harvest.
Intelligently designed. Envizio Pro II is designed with the flexibility to accommodate your immediate needs—and let you grow your system capabilities when conditions change and the time is right. Compatible with commonly used industry software and equipment.
Key Features and Benefits
Complete multi-function capabilities for every stage of your operation
Brilliant 6.5" touch-screen display for easy operation and clear viewing day or night
Dual-product control for added efficiency, including direct injection
Single-product VRA technology for more precise planter and application controls
Integrated dual-frequency GPS receiver upgradeable to RTK accuracy
Slingshot-ready for wireless data transfer, remote support capabilities, high-speed Internet access—and more!
Last Pass contour guidance makes irregularly shaped fields a snap
Four field patterns for easier line acquisition and faster, more accurate coverage
Real-time data mapping, field reports, and record keeping for better decisions and performance
BMP and SHP file formats enhance your ability to record, analyze and make better use of field data
Simple to operate with easy-to-use computer navigation and logical programming