The 2012 growing season was one of extremes in many areas. Too little rain was received during critical crop phases in many areas, while some pockets had heavy, unpredictable rains and wind damage. Whatever conditions growers faced, lessons can be learned from the season to help maximize results in 2013.
One key learning in 2012 was the value of taking a proactive approach to weed control. Growers who planned ahead and built flexibility into their programs were rewarded with the best return on their herbicide investments. This proved true with both post harvest weed control programs the previous fall and early preemergence herbicide treatments in the spring. With this year's extended warm fall weather in many areas, planning ahead for weed control will reap big benefits in 2013.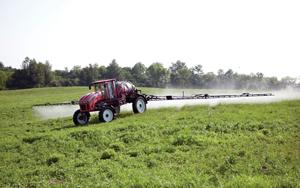 Monitor Fall Fields for Fast-Growing Winter Annuals
"This fall's early harvest is giving winter annuals a big head start," said Helen Flanigan, product development manager with DuPont Crop Protection. "Without a crop canopy in fields for a longer span of time, weeds have more time to grow this fall, creating a thick weed mat for next spring. Herbicide treatments this fall or early next spring will be needed to help ensure warm, clean seed beds that are ready for planting."
Consider Drought Effect on Crop Rotation Plan
Lingering dry conditions in late 2012 could create herbicide carryover issues that affect crop rotation plans for the following season. Without adequate moisture, some herbicides such as atrazine and fomesafen may not degrade in soil before spring planting, which can limit planting options. Fall 2012's extended warm weather helped with degradation, plus fall moisture helped speed the process. After soil temperatures reach 50 degrees, degradation ceases for the season.
To avoid possible early-season crop damage from soil herbicide residues, Flanigan advises carefully checking herbicide labels for any rotation restrictions and closely following manufacturer recommendations.
Apply Preemergence Herbicides Early
While weather conditions for next spring remain to be seen, an important lesson can be learned from last spring: Don't wait until planting to apply preemergence herbicide. Some growers who delayed 2012 preemergence weed control applications until planters were rolling never saw the rainfall needed to activate herbicides before crop emergence. The result was poor early-season weed management and reduced benefits from herbicide investments.
It can be risky to delay preemergence herbicide applications until the last moment," Flanigan notes. "Early-spring herbicide applications provide multiple benefits. Growers can make use of early spring rains to activate herbicides for maximum weed control and they have a larger window of application. It's one less thing to worry about in the spring."
Timely applications of a preemergence herbicide with burndown and residual activity will help provide cleaner, drier seedbeds at planting and help crops get off to a vigorous start. Herbicides fitting that category are available from DuPont, and ag retailer agronomists or crop consultants should contact their local DuPont representative to determine the best option by state and farming systems.
DuPont  |   December 12, 2012
For all your Ag Spray Equipment needs shop @ Agrmart.net