Ohio Valley Ag named Apache Sprayers Dealer of the Year
MOORESVILLE, Indiana, June 25, 2015 – Ohio Valley Ag, a farm machinery and products business with locations in Illinois, Indiana and Kentucky, was recognized for sales excellence as an Apache self-propelled sprayer dealer by Equipment Technologies, the manufacturer of Apache sprayers.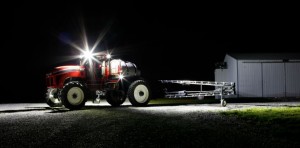 Ohio Valley Ag received the Dealer of the Year award during the Equipment Technologies annual Dealer Sales Meeting June 15 at the company's Indiana headquarters.
Three OVA sales people also were honored. J.R. Mullinax attained the Master Salesman Level in Apache's Top Performer Club Award for Sales Excellence. Kyle Robbins reached the Top Performer Club's Triple Diamond Level, while Don Gowler ascended to the club's Diamond Level.
"Ohio Valley Ag had an outstanding year, and these awards are well deserved," said Matt Hays, Chief Executive Officer of Equipment Technologies. "I congratulate them on their sales achievements."
OVA operates dealerships at 3909 N. Brush College Road, Decatur, Ill.; 920 Commerce Drive, Fairfield, Ill.; 1328 N. Liberty Circle West, Greensburg, Ind.; 2610 West 2nd St., Owensboro, Ky.; and 202 N. Thurston Drive, Russellville, Ky. For more information call 800-254-7514 (Decatur, Ill.), 618-847-0283 (Fairfield, Ill.), 855-450-4510 (Greensburg, Ind.), 866-561-7772 (Owensboro, Ky.), 866-940-2038 (Russellville, Ky.), or visit www.ohiovalleyag.com.
Founded in 1997, Equipment Technologies manufactures the Apache AS730, AS1030, AS1230 and AS1230 XP model sprayers at its Mooresville, Ind., assembly plant. The privately owned company markets its sprayers through a vast dealership network in the U.S., Canada, Australia and Ukraine. Visit www.etsprayers.com for more information.