Collect-N-Go Soil Sample Collection Kit
The Collect-N-Go Soil Sample Collection Kit is an innovative new product. You can sample your soil in record time with little effort. The kit includes the bucket, the auger bit, and the security tie.
Description:
Collect soil samples efficiently using a specially designed soil collection bucket, soil auger, and drill motor (not included). Collection bucket is loaded with features to enhance soil collection efficiency and consistency, which means saving time and obtaining a more reliable representative soil sample for determining how to spend the fertilizer budget.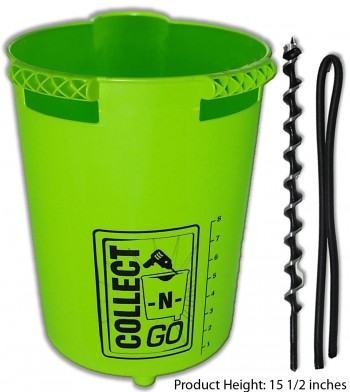 As a bonus, each kit contains a security tie to prevent loss of collection bucket.
Kit Contents:
Collection Bucket:
Made of durable one-piece injection molded plastic
Strategically designed and placement of soil collector tube to assure maximum soil collection and minimum soil loss while collecting subsamples within a sample area.
Two handle positions to accommodate either LH or RH operators.
Pour spout for easy soil transfer
Tall 15.5″ sturdy collection bucket design
Specialized Soil Auger:
Machined from hardened steel for long life
Overall length is 16″
12″ ribbon twist with 1.375 pitch
3/8″ shank
BONUS: All kits come with a 34″ security tie to prevent loss. Also, FREE GROUND SHIPPING INCLUDED!

---
Purchase Collect-N-Go Soil Sample Kit Online
Model CNG-1 Soil Sample Kit