Ohio Valley Ag named Apache Sprayer Dealer of the Year
MOORESVILLE, Ind., July 30, 2013—At their annual dealer meeting in Indianapolis, Equipment Technologies (ET) recognized Ohio Valley Ag (OVA) as their 2013 Apache Sprayer Dealer of the Year. OVA also was recognized for its sales growth among North American Apache sprayer dealerships at their Indiana, Kentucky and Tennessee locations. In addition, OVA salespeople: JR Mullinax, Matt Keller and Kyle Robbins were also recognized for individual sales achievements by earning Performance Sales Awards.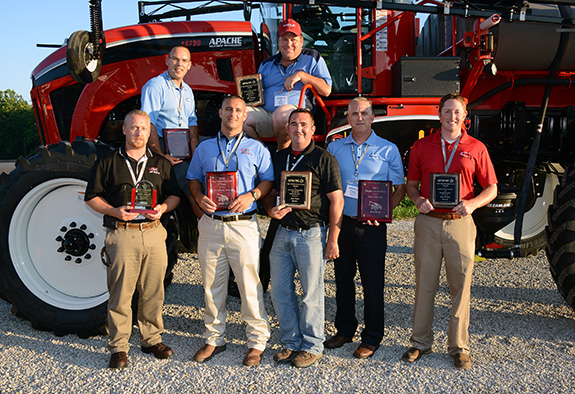 OVA's general manager Richard Payne has molded his four dealership locations into places of sales and service excellence, having won multiple awards from ET both at the dealer and salesman level in the past. They understand the intangible assets to being a successful self-propelled sprayer and application parts dealership. By focusing on their application customer base and a controlled handle of niche expertise, OVA continues to thrive with top quality Apache service and the ability to adapt changing trends of the sprayer industry to the growers of Indiana, Kentucky and Tennessee.
According to ET's vice president of sales & marketing, Chris Meyer, "It is with great pleasure we present the staff at Ohio Valley Ag with this prestigious honor. Representing the Apache brand, their team has epitomized what it means to be an Apache dealership. As application methods evolve, their staff while remained dedicated to customer service and sales excellence. We look forward to our continued long-term partnership and look forward to continued success with OVA's expansion into Illinois."
"I'm very proud of our team effort. Being named Dealer of the Year is something that gives a sense of accomplishment. I'm also very thankful for our customers and friends that made this possible," notes Richard Payne, general manager of OVA.
Riggins Ag Equipment, covering much of Nebraska, shares the Apache Sprayer Dealer of the Year honors with Ohio Valley Ag. The two dealerships tied in overall sales growth numbers for their designated territory.
Equipment Technologies is the largest independently-owned manufacturer of self-propelled sprayers in North America. Operating from its 168,000 square foot headquarters in Mooresville, Ind., the company distributes its sprayers throughout North America, Ukraine and Australia through a network of independent dealers.